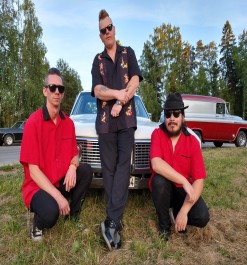 Billy and The Kids
Hemstad: STRÄNGNÄS
Pris: från 6000 SEK
Svarar:

100%
Svarar inom: 1-2 timmar
Rockabilly, Rock'n'roll, Rhythm'n'Blues, Blues, Country, Punk - Pay and we'll play!
Billy and The Kids Rock-a-billy Trio från Strängnäs spelar 50-tals Rock'n'Roll och Rockabilly men också andra musikstiler beroende på begäran. De har en vild scenshow med två kontrabasar.
Vokalist/gitarrist Stefan Billy Nilsson har turnerat i hela Skandinavien i över 20 år med sina tidigare band "Wreckless" och "Vince with The Peaktones", och sedan 2000 med Billy and The Kids. Stefan sponsras av Gretsch Guitars.

Billy and The Kids lirar året runt i hela Sverige, Norge och Finland!

I 2017, 2018 och 2019 turnerade de i Arizona, Nevada och California. Det blir även en ny USA turné i mars-april 2020.

Stefan Billy Nilsson: Vokalist/gitarrist
Sebbe E. Fernandez: Ståbas
Tor Andreas Roseth: Trummor

Artister vi gillar: Elvis Presley, Eddie Cochran, Gene Vincent, Ral Donner, Joe Clay, Paul Ansell, Bebop Creek, Roy Hamilton, Motörhead, Ramones, AC/DC, Johnny Burnette Trio, Big Sandy, Brian Setzer, Darrel Higham m.fl.
Kontakta Billy and The Kids
FESTBANDETS REPERTOAR
Dang Dang Dang

(Billy and The Kids)

Set Me Free

(Billy and The Kids)

Dial My Number

(Billy and The Kids)

Callin' On The Devil

(Billy and The Kids)

I Want You Aha!!

(Billy and The Kids)

Just Your Friend

(Billy and The Kids)

Love Rocket

(Billy and The Kids)

Low Down

(Billy and The Kids)

No Go

(Billy and The Kids)

No Time To Cry

(Billy and The Kids)

Queen of My Heart

(Billy and The Kids)

Your Loverboy's Gone

(Billy and The Kids)

Turn Me On Slow

(Billy and The Kids)

Big Lake Run

(Billy and The Kids)

Old Dogs Can't Sit

(Billy and The Kids)

Take Me Back

(Billy and The Kids)

Mac Attack

(Billy and The Kids)
Se fullständig repertoar